NVMe SSD VPS Server Hosting Plans
Pure NVMe SSD Unbeatable price-Performance ratio Anti-DDoS Attacks Powered by KVM Hypervisor
CPU Cores
MEMORY
STORAGE
BANDWIDTH
Cost /month
Instant Provisioning
1 CPU
1GB
20GB NVMe SSD
1 TB
₨ 250.00
Order Now
1 CPU
2GB
40GB NVMe SSD
1 TB
₨ 500.00
Order Now
2 CPU
4GB
80GB NVMe SSD
2 TB
₨ 1,000.00
Order Now
4 CPU
8GB
160GB NVMe SSD
4 TB
₨ 2,000.00
Order Now
6 CPU
16GB
320GB NVMe SSD
5 TB
₨ 4,000.00
Order Now
RAM / Memory Optimized VPS Plans
CPU Cores
MEMORY
STORAGE
BANDWIDTH
Cost /month
Instant Provisioning
2 CPU
32GB
160GB NVMe SSD
4 TB
₨ 6,000.00
Order Now
4 CPU
64GB
320GB NVMe SSD
6 TB
₨ 12,000.00
Order Now
Storage Optimized VPS Plans
CPU Cores
MEMORY
STORAGE
BANDWIDTH
Cost /month
Instant Provisioning
2 CPU
8GB
1 TB NVMe SSD
4 TB
₨ 8,000.00
Order Now
2 CPU
8GB
2 TB NVMe SSD
6 TB
₨ 16,000.00
Order Now
Unbeatable Reliability & Performance with Simple Affordable Pricing
Best suited for individual applications websites, development, test, or staging environments at an affordable price. Giving you complete control of Virtual Private Server with full root access and a choice of Operating systems operating system that best works you including Ubuntu, CentOS, AlmaLinux, Rocky Linux, Debian, Suse, Scientific and Windows(without a license) or your custom OS. Instant Provisioning - Get your server up and running immediately provisioned within a few minutes. All VPS plans are Self Managed, and also we don't offer any backups for this service. Guaranteeing 99.5% Uptime Service Level Agreement (SLA), ensuring good network availability for your vps.
All VPS servers are powered by Intel®'s next-generation architecture, NVMe SSD storage, and highly resilient infrastructure to meet your needs.
VPS Client Administration Control Panel
Full Root Access VNC Access Unlimited Reboot, Restart Monitor Resources
Complete control with Root access to perform various crucial server administration tasks with just a click of a button from your VPS panel, including Unlimited Reboot, Restart, Web-based VNC, Network management & Resetting credentials, and OS reinstallation via the VPS client Administration control panel. Also, monitor your resource consumption for CPU, Memory, Storage, Inodes, and Bandwidth usage.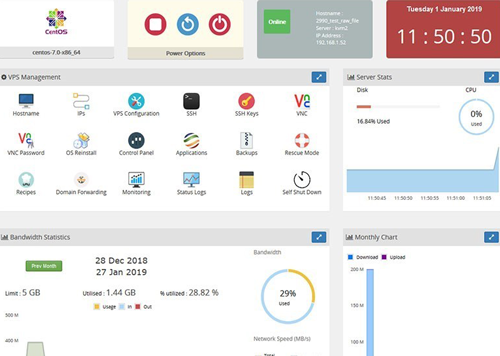 Please note we do not allow our vps service to be used for email spamming, hacking, or blacklisting our IPs; in case we find any vps hosting account doing it, we will suspend and terminate the vps without any notice, and there would be no refunds or money-back guarantee can be applied for such cases. New customers/clients using our hosting services for the first time may need to provide additional identification if our auto checks flag and your new VPS, Instant Provisioning, will not work for such cases, and our support team will contact you. Sorry for the inconvenience, but this is to avoid fake and fraudulent accounts.
Why choose Touchstone VPS Servers?
Enterprise Hardware with NVMe SSD | Flexibility and Control | Privacy and Security | Anti-DDoS Attacks